Game Downloads
You're located in category:
Total Eclipse
After whisking the players to far-flung galaxies in the excellent Space Station Oblivion (a.k.a. Driller) and Dark Side, Incentive brought their revolutionary Freescape 3D engine to breath life into ancient Egypt. Legend has it that Ra, the God of Sun, had placed a convenient curse upon his people: if the sun's rays to his shrine atop the pyramid are blocked by anything during daylight hours, he would obliterate the earth. The trouble, of course, is that thousands of years later you've just discovered that there will be a total eclipse of the sun in two hours-- that is, therefore, the amount of time you have to race the fiendish mazes inside the pyramid to find Ra's shrine and prevent the catastrophe.

Of course, what's a pyramid without hidden treasure to plunder? To that end, Total Eclipse is full of treasure for the taking, and your final score is based on the amount of loot you've managed to get as well as whether or not you have indeed saved the world. You are equipped with a revolver (with unlimited bullets), a wristwatch that ticks ominously towards the end of the world, a water bottle which you will need to fill constantly to satisfy your thirst. Despite a more interactive environment, this is a much more difficult games than Incentive's previous offerings and may leave a beginner frustrated. Patience to map the maze-like environs is a must in this one. Recommended, but not for the faint of heart or anyone who's unwilling to sacrifice hours to get lost in desolate ancient ruins.
Download full game now: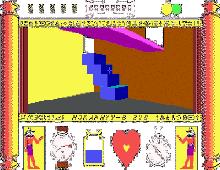 Total Eclipse screenshot
People who downloaded this game have also downloaded:
SDL Paradroid, Earth Siege 2, Shakii The Wolf, Pandemonium 2, Wing Commander: Armada