Game Downloads
You're located in category:
Thunder Strike
Thunder Strike is an above-average 3D shooter with a wacky plot. It's the year 2238 and the TV networks and defense industries control the Earth. Whoever has the highest ratings rules the world. The ultimate TV phenomenon is the military olympics--where gladiators compete and attack enemy vessels in deadly low-flying combat. You choose any of 5 crafts to fly in the arena, and your strategy and action must be enough to maintain TV ratings.

Gameplay is fast and furious, although it becomes monotonous if you have destroyed all enemy ships but one, and you have to chase him down madly around the arena. Fortunately, there are different levels in 5 different arenas, all of which are more than just different backdrops: the enemy ships are different, and you will gain access to new crafts to use. Overall, Thunderstrike is a pleasant diversion that could be much more fun with more imaginative structures and power-ups (e.g. Spectre VR). Worth a try if you like 3D shooters. For a more unique game, though, try Loriciel's Moon Blaster instead.
Download full game now: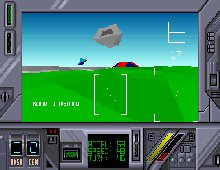 Thunder Strike screenshot
People who downloaded this game have also downloaded:
Teenage Mutant Ninja Turtles, Simpsons: Virtual Springfield, The, Jungle Strike, Teenage Mutant Ninja Turtles 3: The Manhattan Missions, Take No Prisoners