Game Downloads
You're located in category:
Teppodon
Teppodon is a fun sequel of sorts to Teppoman and Bimboman, two fun cartoony platformers from the same Japanese author. Created with Klik & Play game creation program, Teppodon offers smooth cartoon animations, excellent level designs, plenty of improvements over the previous two games, and a *very* challenging gameplay.

There are many improvements in the game that will please fans of Teppoman. First of all, you can now carry up to 3 weapons at once, and the game no longer automatically drops a weapon to the ground when you are out of ammo. You can now see the bullets that are being fired at you, and explore much larger and more detailed levels. There are also many more weapons than Teppoman, and the enemy AI has been much improved: enemies will now chase you to another screen if you run away, and call reinforcements when the going gets tough. The game is harder than Teppoman, though - it is so hard, in fact, that I never managed to beat level five, and I suspect only the most expert action gamers can. Regardless, if you enjoy side-scrolling platformers in general and especially if you love a challenge, Teppodon is another polished freeware that is worthy of play and praise.
Download full game now: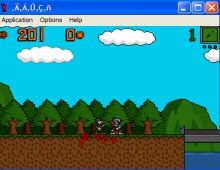 Teppodon screenshot
People who downloaded this game have also downloaded:
Teppoman, Tanks 3D, Terra Cognita, Spirou, Splinter Source