Game Downloads
You're located in category:
Techno Puck
Techno Puck is a cool Pong-style paddle game with some nifty features including dual paddles, power-ups, special items, and different level designs. Similar to air hockey, your goal is to knock the ball past the opponent's paddles into the goal, and score as many goals as possible before time (usually 90 seconds) runs out. Techno Puck adds a

The game plays like a typical Pong game, but with a difference. You now control 2 paddles, one large and one small. You control the large paddle, and the small paddle moves in the opposite direction. When you press up, for example, the large paddle will move up and the small paddle down. This takes some getting used to, but once you get the hang of it, it makes the game much more challenging than your average paddle game, as it makes ball trajectory much more unpredictable and allows for fast balls - hitting the ball with a paddle's edge.

In addition to the basic gameplay, Techno Puck adds a lot of neat features, including bonus items that can either help your cause or hurt your cause once they hit your paddle. These include extra balls, shortening the length of your large paddle, increasing ball speed, and more. There are 5 levels you can choose from in the game, each with its own layout and different kinds of bonus items.

Overall, Techno Puck is a fun coffee break game that's great either vs. the computer or another friend in hot-seat mode. If you enjoy Broderbund's Shufflepuck Café or Pong games in general, Techno Puck is a fun spiritual descendant that doesn't disappoint. Highly recommended.
Download full game now: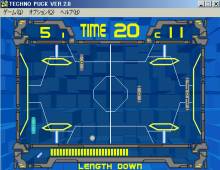 Techno Puck screenshot
People who downloaded this game have also downloaded:
Shufflepuck Cafe, Star Rangers, Tanks 3D, Skuld, Soldat