Game Downloads
You're located in category:
Super Stardust
Super Stardust 96 is an excellent arcade shoot em-up that combines addictive gameplay with breath-taking ray-traced and fully animated 3D graphics, digital music and sound effects, to give you the blast feast of your life. Your objective is simple--destroy everything in sight and collect weapons and power-ups to help you in your quest. Fight your way through 5 worlds and 4 warp gates to reach the end and face Professor Schaumund himself. The game includes more enemies, explosions, debris, action and destruction than most PC games.

According to the official game page at Housemarque, Super Stardust was "the first true arcade blaster shoot-em-up for the PC ever!" and the game certainly lives up to this claim. Among the many features are: true arcade quality, huge and fully animated enemies, realtime glow and transparency effects, digital music and sound effects, and more. The game also deserves mention for its solid coding—as the official site states, "excellence in technical execution meant constant 70Hz screen update and highly optimized code guaranteed unbelievable arcade quality interaction on your own PC." Too bad this PC version didn't enjoy as wide distribution as its Amiga cousin, and stateside published GameTek did a much poorer job than European publisher Team 17, resulting in the game being literally unknown in the US. Still, here's your chance to finally try one of the BEST shoot-em-ups ever made for the PC.
Download full game now: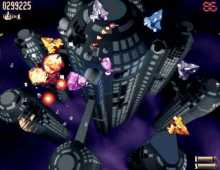 Super Stardust screenshot
People who downloaded this game have also downloaded:
Stardust, Cannon Fodder 2, SWIV 3D, Cannon Fodder, Turrican 2