Game Downloads
You're located in category:
Strike Base
Strike Base is a decent 3D space shooter that features good graphics for its time, created from an unusual mix of Voxel, 3D vector, and bitmap technologies. The typical save-the-world plot: you are pilot of prototype fighter Strike Base, the last hope for mankind against the alien invasion in 2218AD.

In addition to nice graphics, Strike Base features expandable weapons (similar to R-Type but less intricate), the ability for you to fly or drive 4 vehicles simultaneously, and 4 completely different worlds. I find the game very difficult due to impossible odds, but fortunately you can lower the difficulty level from the main menu. The mouse-based interface is easy to learn and use, and there are plenty of enemies, both ground-based and aerial, for you to destroy. All in all, Strike Base is not a revolutionary action game by any means, but it is fun regardless. Perhaps the most striking thing about this game was that it was coded entirely by one programmer, Markus Oberrauter, who succeeded in convincing Max Design to publish his game. The novel combination of various 3D graphics technologies also lends the game a different look than other space combat titles. Worth a look, but not really attractive for long-term play.
Download full game now: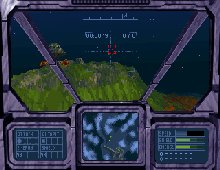 Strike Base screenshot
People who downloaded this game have also downloaded:
Skyfox II: The Cygnus Conflict, Delvion Star Interceptor, Star Wars II, Sky Target 3D, Star Fox 2