Game Downloads
You're located in category:
Street Fighter
Review 1:

Street Fighter games were highly successful on C64 and Amiga (not to mention arcade machines) so Capcom decided to port the game to PC as well. Was it a mistake? Well, the game is alright, not the best but playable. The graphics could have been better, after all - this is PC!

Anyway, select a character and do your best to beat the rest. You will fight other masters of martial arts on your way to fame and glory. A lot of great moves, kicks and punches are featured. Now get out on the street and show them who's the boss!

Review 2:

Fists up! I cant stop using the word classic, so I'm going to say lollipop instead. ;) This game is a really lollipop!!

Seriously though, when the word classic springs to mind I don't really think of street fighter, but when the word fighting comes to mind, new or old its the first thing that pops into my old brain! This must be the first ever good fighting game I played, back on the Nintendo, or was it super Nintendo? I cant remember, but I remember one thing, that's how good it was. With characters like Ryu and Ken, battling it out with their fireballs and famous 'haadokun' sounds, how could it not be a success?

Street fighter, although not as good as its younger brother, street fighter 2, still gave off a great fight, especially when you could play your friends, or family and beat the hell out of them without actually touching them! I can remember a good few times I whipped my cousin 'The Saint's' ass on it, hehe, sorry, here I go again mumbling to myself about the past. Where was I? Oh yeah, game play. The PC version, unfortunately was a bit harder to play than on the old Nintendo, as the keyboard back then was no contender to a joy pad, which you could hold firmly in your hand and move around to the moves of the fighter.

This game is a great classic and will be remembered for a LONG time to come, without a doubt. If your into fighting games, then this should defiantly be in your collection of all time greats. It cant compete with the graphics of Teken Tag, but for enjoyment its defiantly in he same league, and as the saying goes, "you have to appreciate the past, to appreciate the present"...
Download full game now: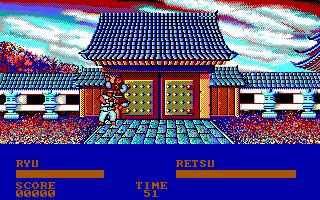 Street Fighter screenshot
People who downloaded this game have also downloaded:
Super Street Fighter 2 Turbo, Mortal Kombat, Simpsons, The, Golden Axe