Game Downloads
You're located in category:
Silpheed (SEGA CD)
Silpheed for SEGA CD is a cosmetic update of the 1988 game of the same name, also developed by Game Arts and published to great acclaim by Sierra outside Asia. Although this SEGA CD version adds nothing to the gameplay, it's hardly cause for complaint since the original Silpheed is a Hall of Fame inductee on this site. It's still a vertical shooter, except that now the polygon graphics now look much better than the original, as Game Arts really took advantage of the SEGA CD's 16-bit and CD architecture. Although it's more of an isometric 2D game rather than a "true" 3D game, the polygon graphics are so extremely detailed that nobody should complain. The soundtrack leaves a little to be desired, but excellent cut-scenes more than make up for this.

The bottom line is simple: if you like the original Silpheed, you will love this high-quality remake from the same company. The excellent interface and gameplay remain intact in this incarnation. Be warned that it's still the same game, though - meaning a challenging shooter that is quite frustrating due to the high difficulty level. If you are up to the challenge, Silpheed for SEGA CD is a blast.
Download full game now: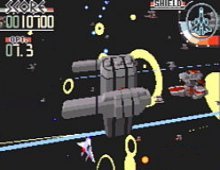 Silpheed (SEGA CD) screenshot
People who downloaded this game have also downloaded:
Metal Gear Solid, Teenage Mutant Ninja Turtles 3: The Manhattan Missions, Daikatana, Blood 2: The Chosen, Star Fox 2