Game Downloads
You're located in category:
Sailing: An Adventure in The Bermuda Triangle
Sailing: An Adventure in The Bermuda Triangle is a decent but primitive action/sport hybrid from Dynetron, released way back in 1983. Your objective: finish sailing 3 legs around the Bermuda Triangle, rescuing stranded swimmers and rafters along the way to score as high as possible. You do all this while avoiding obstacles that range from the mundane like other speedboats and sharks, to the exotic like alien crystals, creeping mists, and annoying vortex that teleports you elsewhere on the map.

You control the boat from a bird's eye view perspective, and you have access to the radar/map that is displayed permanently on the lower right window, as well as the boat condition display on the top right window. The game tries to blend realism into action-based gameplay with limited success: wind direction affects your boat's movement, and you need to control the rudder properly to stay on course. After a while, the game gets repetitive - the lack of random maps limits replay value, and there are not enough challenges to keep you entertained. Worth a look only for its historical value as one of the first cross-genre games.
Download full game now: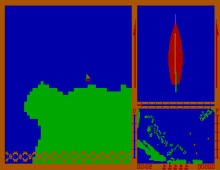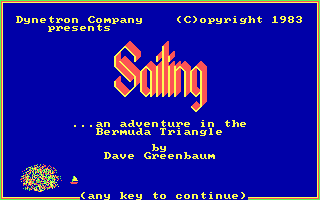 Sailing: An Adventure in The Bermuda Triangle screenshots
People who downloaded this game have also downloaded:
Untouchables, The, L.A. Crackdown, Search and Destroy, Monty Python's Flying Circus, General Admission Sport Pinball: Baseball