Game Downloads
You're located in category:
S.T.U.N. Runner
Review 1:

That big one page advertisement for this game has been staring at me ever since 1990 in one of those almost historical gaming magazines from that year. Always wanted to try this game and just a few days ago I finally got hold of it. Whoa yeah! Futuristic high speed racing sim - just like one of those arcade-machines from the good old days. What more to say about this? Forget those reality-bound racing-games, where else can you shoot other cars with lasers? Prety nice - hehe. Your vehicle is something like a mixture between a formula one-car and a space-ship. Bet I could beat Michael Schumacher with one of those babies.

Review 2:

STUN Runner is PC conversion of Atari's excellent futuristic arcade racing game from 1989, a mixture of rollercoaster racing, bobsled and a shoot'em up game. The game uses polygonal 3D graphics which are fairly fast but sadly not very smooth. The game is quite fun and very challenging as you almost always have to take a perfect route over the extras to stay in the time limit. Not an arcade perfect conversion, but above average considering its time. Not as innovative or offering as much longevity as other futuristic racing classics (e.g. Powerdrome), but still way ahead of most others in that period.
Download full game now: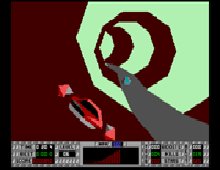 S.T.U.N. Runner screenshot
People who downloaded this game have also downloaded:
RoboCop, Teenage Mutant Ninja Turtles 2: The Arcade Game, Star Wars II, Street Fighter, Star Trek TNG: Klingon Honor Guard