Game Downloads
You're located in category:
Revenge of The Toys
Best considered as the sequel to zany Dilbert's Desktop Games developed by the same company, Revenge of The Toys is a great collection of fun mini-arcade games you can play from your desktop. The games are all mindless fun (Nail 'Em is my favorite), and many are gory, but they all provide a great diversion during coffee break or during office hours. Games Domain's review for this overlooked old game says volumes about its charm:

"There are nine games in this collection including Ricochet (an intergalactic game of coordination), Kung Fu Coffee (kick and punch office chairs and other office stuff), Shooting Gallery (use your bazooka to take out bonsai trees, teddy bears and rotting chicken), Fishing (cast a line into your desktop), Nail 'Em (nail the knobs and smash away stress), Basketball (moving hoops), Venus Flytrap (your fly infested desktop provides the food of life for this potted meat eater), DeBugger (a robotic reptile must salvage your screen by eating pests) and Monster Factory (customize your own monster by choosing heads, torsos and limbs and send it into battle).

The games play on top of your work and even though many of the games seem to completely destroy the desktop, everything turns back to normal at the end of a game. The games vary in quality but they are all about quick arcade thrills -- meant to be played for just a few minutes at a time. Enough to make you miss the water cooler talk but not enough to last through lunch. I liked the pong-like Ricochet and the crazy Shooting Gallery (with a bazooka no less!) to be the best. The Shooting Gallery is great everytime you see your co-worker tending that ridiculous bonsai plant, get a wiff of someone's rotting chicken in the company fridge or realize that your lunch consists of a rather small portion of leftover chinese food because your roommate helped himself to it for breakfast. Just pull our your bazooka and blow away your desktop.

Revenge of the Toys offers some unique features that allows you to share the havoc you wreak on your desktop. The reply feature allows you to record your actions, the screen saver activates various games as screen savers, and you can also save the screen as a clipboard file to share with friends or manipulate in Microsoft Paint or in a photo processing program.

If you like to play quick games as a break and Solitaire isn't doing it for you anymore then these games might be nice to have on the old work PC. If gaming at work is frowned upon, I wouldn't risk my job for these simple little games." But well, the ability to procrastinate at work once in a while is what makes work worthwhile, right? ;) Highly recommended, especially for Dilberts (including yours truly) everywhere. If you like Dilbert's Desktop Toys, you will love Revenge of The Toys.
Download full game now: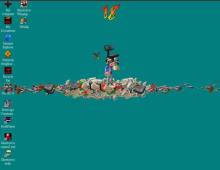 Revenge of The Toys screenshot
People who downloaded this game have also downloaded:
Haunted House, Reap, The, Revenge of the Mutant Camels, Simpsons: Bart's House of Weirdness, The, Yahoo! Balloon Circus