Game Downloads
You're located in category:
Reap, The
One of the best-looking shooters ever released, The Reap from Finnish developer Housemarque features stunning visual effects and huge 3D-modelled levels spanning 4 different worlds. As the official blurb says, the game uses "...rendered graphics to represent Desert, Underwater City, Ice Caves and futuristic Metropol gaming environments, with each world playing host to superb full screen animations. Unique light sourcing creates an ambient background atmosphere and highlights an attention to background detail seldom seen in PC entertainment software."

But graphics, as countless examples have shown, cannot save a game if it is no fun to play. Fortunately, The Reap not only lives up to Housemarque's early reputation as maker of Stardust games, but also exceeds it with even better graphics, bigger worlds, and more furious action. Although four worlds may sound too few for a SHMUP game, each world is so large and so difficult that it will take expert gamers a few hours (and blistered thumbs) to get through it. Dozens of special effects and a catchy soundtrack round off this highly-polished game that is a good example of how good-looking a PC game can be without sacrificing speed or playability - and that is no small feat given 1997 hardware. Highly recommended.
Download full game now: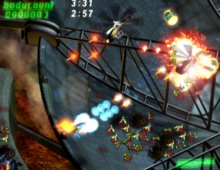 Reap, The screenshot
People who downloaded this game have also downloaded:
Incoming, Return of the Mutant Space Bats of Doom, NemesisCrisis: Operation Gallant Thunder, No Gravity, Prehistorik 2