Game Downloads
You're located in category:
Pyjamarama
Pyjamarama is a superb fanmade remake of a classic Spectrum action/adventure game of the same name, released way back in 1984 by Mikro-Gen. The original game is the continuation of Wally's adventure in the famously tongue-in-cheek "What makes a Wally" series. This time, Wally is trapped in his own nightmare - and it is up to you to help him find the alarm clock that can wake him up. This being Wally's idea of a nightmare, you must deal with numerous wacky enemies including roast chickens, flying scissors, spinning dinner plates, falling books, and revolving saws to name but a few. In order to reach the alarm clock, you have to travel through dozens of rooms in Wally's own home, each of which is full of unique obstacles.

The game is brought to life in vivid SVGA graphics in this remake. Like the original, adventure element plays a big role in the game: you have to pick up various objects and use them in the right places to proceed. It is a bit annoying to be able to carry only two objects at a time, but it is not a very big problem once you find the secret passage that shortens your travel time dramatically (so you can quickly go back to get that dropped object you now need). Fans of the original will love the highly detailed graphics and very faithful gameplay, while action/adventure fan - basically anyone who likes Dizzy series - will have a lot of fun with this quirky, highly polished remake that does the game proud. Highly recommended!
Download full game now: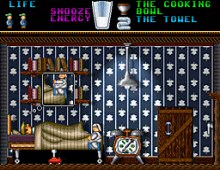 Pyjamarama screenshot
People who downloaded this game have also downloaded:
Rick Dangerous 2, Last Defender, Prehistorik 2, Rick Dangerous, Chaos Engine (a.k.a. Soldier of Fortune)