Game Downloads
You're located in category:
Oscar
A great platform game that was more successful on the Amiga, Oscar casts you in the role of Oscar, a cutesy chipmunk whose task is to find little clones of himself in various movie backdrops. Gameplay is conventional platform fare, but is executed in a very polished manner typical of a Flair release. The game's highlights are the well-designed and diverse levels, each with its own theme, power-ups, hidden surprises, and enemies.

Thanks to Oscar's all-encompassing premise of being set in movieland, the designers let their imagination run wild in designing levels, which range from sci-fi land, to Castlevania-style creepy cemetery, to Western saloons and beyond. Oscar wears appropriate clothes in each scene, and even doodles when he's idle (heh, there's a poet in me) in ways appropriate to that scene. With attractive graphics, great soundtrack, fluid controls, diverse levels, and the difficulty level that is just right, Oscar is a great platform game that deserves a second chance.
Download full game now: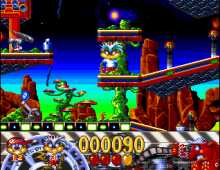 Oscar screenshot
People who downloaded this game have also downloaded:
Fury of the Furries, Jazz Jackrabbit, James Pond 2 - Codename: RoboCod, Prehistorik 2, Zool 2