Game Downloads
You're located in category:
O-DEN2000
O-DEN2000 is a fun, unassuming horizontal shooter from the designer of Akuji the Demon. Like in his better-known platformer, this game sports crisp graphics, smooth animations, and fluid gameplay that will delight G-Type fans. Your craft, as well as all the enemy ships, are well designed in stumpy-head "SD" anime style. Enemy onslaught is fast and furious, the power-ups are appropriately rare and powerful, and "boss" monsters are appropriately huge and menacing. The only thing bad about the game is that it is over all too soon, just when you are getting the hang of it.

It may not be the longest or even the most inventive, but this game proves that "old skool" games still have plenty of charm and staying power even in this age of frenzy over the latest 3D extravaganzas. If it is retro, 8-bit era fun you long for, O-DEN2000 is one of the best reasons to relive the experience.
Download full game now: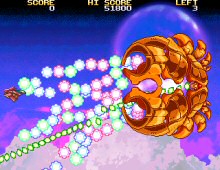 O-DEN2000 screenshot
People who downloaded this game have also downloaded:
Mogura Reverse, Raiden II, Vsys Gaiden (a.k.a. Techno Sylph), Parsec47, Titan Omega Revelations