Game Downloads
You're located in category:
Monuments of Mars, The
Ah, The Monuments of Mars (plural as this includes all four of the volumes!) : Monuments of Mars - Volume 1 - First Contact, Monuments of Mars - Volume 2 - The Pyramid, Monuments of Mars - Volume 3 - The Fortress, Monuments of Mars - Volume 4 - The Face.

Trust good old Apogee to split one game into about 4 again. You wonder if they do that so that you get four times as much game, or so they can make four times as much money. It's something to think about ;)

But yes, in this game you are a NASA astronaut. You have been sent to the mysterious planet of Mars. There have been many expeditions to Mars, but none have ever returned. Where are our men? Why have they not returned? Are there alien life forms on Mars that may have captured and eaten them? These questions need answering, so they pick YOU! You jump in your space ship, which is cool as its computer powered ;). You cruise over to Mars and land on the Red Planet. The first thought would have to be 'wow, what a green and red planet! And what are those funny looking aliens with flowers for antenna, and them strange robots!'

The game graphics aren't that great for a 1991 game, but its tolerable. I guess things ARE red when you are on Mars ;). The sound is PC speaker sound, and not that astonishing either. But don't worry, its not all bad! The game is one that I've played right through many times, so it can't be all that bad right!? I mean I was addicted.

So go, across the planets surface and then deep within the planet. Encounter strange, and yet some pleasant aliens. There are all kinds of exciting things. BUT WAIT! Why yes, yes there is more. You get four times as much of it, because this is an Apogee game, and there are four volumes! See if you can find the missing astronauts, collect some points, shoot some aliens and find out the secrets of Mars.
Download full game now: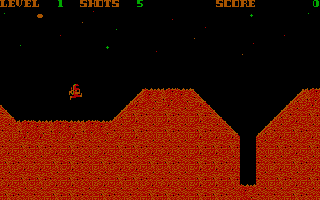 Monuments of Mars, The screenshot
People who downloaded this game have also downloaded:
New Zealand Story, The, Earth Siege, Mario Forever, Invasion of the Mutant Space Bats of Doom, Earth Siege 2