Game Downloads
You're located in category:
Legends
Probably the most obscure game from now-defunct developer Krisalis, Legends is an average Zelda-style overhead action/RPG hybrid that has none of the charms of Nintendo's classic. The game's best feature is the plot, which is long and quite interesting despite being little more than a stylish variant of a typical "kill the big foozle" plot found in countless RPGs. Similar to Zelda, you control the hero from an isometric/overhead perspective, as he moves around a vast fantasy world. The action takes place in real time, and your character will gain more strength, weapons, and life points as he kills enemies. The keyboard interface is cumbersome to say the least: you need to use the keys Z, X, P, and L to move - and there is no way to change this awkward default. The SPACEBAR is used to shoot weapons, and you can switch between different weapons in the game.

Despite a vast gameworld and an interesting plot, Legends suffers from a very mediocre gameplay. The enemies are few and far between, and the gameplay rarely rises above the tedium of shooting everything in sight and overturning obstacles to find hidden treasures. It is therefore not surprising that this game, as well as its Amiga version, is very little known even among admirers of Krisalis games. One to avoid.
Download full game now: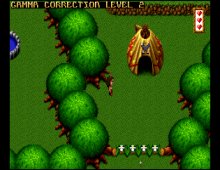 Legends screenshot
People who downloaded this game have also downloaded:
Mario Forever, Star Crusader, Daikatana, House of the Dead 2, The, Spear: Resurrection