Game Downloads
You're located in category:
Lars: The Wanderer
Lars: The Wanderer is an excellent fantasy ?action RPG? from Gravity, a Korean developer. The game is similar to Sierra/Game Arts? Zeliard in gameplay and style, except there is more emphasis on the use of magic. The gameworld is diverse and vast: you will explore towns, caves, and mazes from the traditional 2D side-scrolling view. Along the way, you will talk to town citizens, buy more powerful weapons and spells to use, and battle hundreds of monsters. The effects of various spells in particular are very nice, especially since you can collect magic wands and ?upgrade? them.

The game is in Korean, but by and large it?s not difficult to figure out what to do, thanks to action-oriented gameplay. Lars' graphics are attractive, and the anime style should interest fans of console RPGs and platformers. Overall, definitely a charming and entertaining old game that is well worth a look. Recommended!
Download full game now: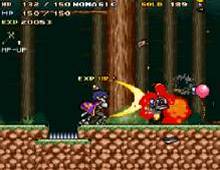 Lars: The Wanderer screenshot
People who downloaded this game have also downloaded:
Legend Cave, Puchiwara No Bouken, Soldat, Lemming Ball Z, Smokin' Guns