Game Downloads
You're located in category:
Lacewing
Lacewing is a great arcade-style shooter that plays like a cross between Spacewar and Centipede. A "retro-style" game, the game's premise is your average "blast all aliens" plot, but the gameplay has much more variety than an average game of this type. The game is similar to cavefliers like Thrust Deluxe in a sense that you have to deal with drag in the game, and there is no third dimension: you will be looking at the action from the top-down perspective.

There are several nice additions to the standard shoot 'em up mechanics. You can, for example, harvest energy from dead/destroyed aliens to upgrade various systems on your ship, each of which can be upgraded five times. You can also choose to control different shpis, each of which has its own strengths and weaknesses. You can also play with another human player via hotseat (splitscreen) in both co-operative and duel modes. With a ton of power-ups, multiple upgrades, and fluid gameplay, Lacewing is another fun retro shooter that will delight every fan of the genre.
Download full game now: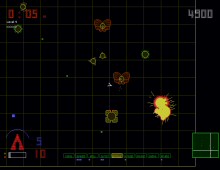 Lacewing screenshot
People who downloaded this game have also downloaded:
Miko-san's Miracle Board, Outbound, Full Tilt! Pinball, GunViper, Meteor