Game Downloads
You're located in category:
Krazy Ivan
Giant mech battle games are all the rage these days. From Mech Warrior to Krazy Ivan, there?s nothing like climbing into a giant robot and kicking some metal butt. After all, Ripley sure seemed to be having a good time at the end of the movie Aliens in that big ole mech suit.

Krazy Ivan has taken the mech suite theme and altered it slightly. Instead of fighting in open terrain against an army of mechs, you?re placed in an arena for single combat, which makes it something of a mech brawler. In between the combat arenas, you get harassed by other war machines en route to your next battle. Once all the enemies in each stage have been vanquished, you destroy the enemy generator and free the sector.

The game is incredibly well animated, and every stage is half blanketed in fog, which initially looks cool, but really only serves to hide the draw-in. And while the stages are set all over the world, they?re all laid out relatively the same. The one-player mode is easily beat in just a few hours, but the two-player mode, which supports the link cable, can be very entertaining. In the end, Krazy Ivan is a good, solid game. It?s just a little too short.
Download full game now: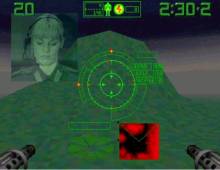 Krazy Ivan screenshot
People who downloaded this game have also downloaded:
G-Nome, House of the Dead 2, The, House of the Dead, The, Mechwarrior, Metal Gear Solid