Game Downloads
You're located in category:
Historical League of Bouncy Boxing, The
A clever and skillful use of the Adventure Game Studio adventure game engine, The Historical League of Bouncy Boxing is a cool multiplayer beat 'em up that plays like a cross between The Ancient Art of War and Little Fighter games (although admittedly much more limited and less fun than either game). The premise is simple: up to 6 historical figures (half of whom can be human-controlled simultaneously) duke it out in a vast arena where the last man standing will be declared the winner. You can control the likes of Gandhi, Julius Caesar, and Hitler to name but a few. There are 4 arenas, each of which offers unique features in the environment that you can interact with. Like most beat 'em up games, you can grab power-ups that appear at random to help boost your advantage. While most power-ups are typical, a few of them - Matrix (which activates "bullet time" just like in the movie) and Clone (creates a clone of you that can hit half as hard, but also transfers the damage to you) in particular - are quite clever. In addition to crisp and attractive cartoony graphics, each fighter comes equipped with funny voice-overs. Last but not least, the AI is quite good, although the game is much more fun (and less predictable) against real human beings. Definitely not only "just a clever use of AGS," but a fun multiplayer action game in its own right.
Download full game now: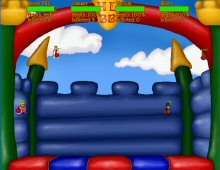 Historical League of Bouncy Boxing, The screenshot
People who downloaded this game have also downloaded:
Cool Spot, Smokin' Guns, Line Continues, The, Star Trek TNG: Klingon Honor Guard, Destruction Derby