Game Downloads
You're located in category:
Gunmetal
Gunmetal is a decent first-person action game, similar to MechWarrior 2 in style except much simpler and not as much fun. The plot: it's 2219 AD, and your job as a pilot in the Nataka Imperial Armored Cavalry is to accomplish various missions, ranging from rescuing corporate bigshots, defusing nuclear warheads, teleport a battle cruiser into the heart of a sun, and - of course - save humanity from certain extinction.

What sets Gunmetal apart from mundane action games is the fact that you can customize the assault vehicle to suit your playing style: fast and light, slow and tough, or anywhere in between. The campaign mode has 26 missions of various objectives and terrain types. You can also play other players in a deathmatch mode, although the maps are nowhere near as interesting as modern FPS such as Unreal Tournament. The game is reasonably fun, although it is still very simplistic compared to classics in the genre (Assault Rigs and Terra Nova come to mind). If you want an easy-to-pick-up action fest that will last more than a few hours, offering a good variety of missions and smooth graphics, check out this marginally above average game.
Download full game now: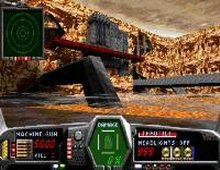 Gunmetal screenshot
People who downloaded this game have also downloaded:
G-Nome, Freespace 2, Metal Gear Solid, CyberMage: Darklight Awakening, Infestation (2000])