Game Downloads
You're located in category:
Gremlins 2: The New Batch
Review 1:

Gremlins 2: The New Batch was quite a successful movie, but the game is quite bad if you ask me. It is simply too hard and the entertainment factor is below average. You just run around, dodge creepy mutated gremlins and fire at them with the flashlight (or some other weird weapons in the later stages). This should have been better...

Review 2:

A surprisingly nice game. Basically you set off to defeat the Gremlins. Based on the second movie you are making your way through a building that's being hold by the evil Gremlins. Picking up 'power-ups' for your health and batteries for your weapon and always searching for the last gremlins on the level you are currently 'cleaning up' - you can choose yourself if you take out the levels one after another starting with the easy levels at the bottom or if you take the elevator right into the action at the uipper levels. Not bad, really. The only thing I really don't understand are the graphics - I mean... they are not up to date for a game from 1991. They COULD have tried a little harder, it would have contributed to create a certain atmosphere which is a thing that somehow lacks in this game. Anyway, still fun.

Review 3:

Gremlins 2: The New Batch from Elite (not to be confused with another game based on the same license from Hi-Tech Expressions) is a decent platform game based on the hit Warner Brothers movie. It is a much better adaptation than its Hi-Tech counterpart, although the action still winds down towards the end to being somewhat tedious.

As in the movie, your goal is to rid New York city of the invading gremlins. Armed with a flashlight, you will track down the little monsters through many Big Apple locales, each with its own challenges and hidden surprises. The gremlins attack you by rolling themselves up like a cannonball, in droves at a time. This makes the game very challenging even for joystick experts, as it is often impossible to dodge or jump over the rolling gremlins. Fortunately, you can find extra lives to add to the seven you start out with.. but it takes a very observant gamer to find all the hidden bonuses. Overall, a fun game that's worthwhile for fans of the movie, although the addition of cutscenes between levels would have made it a much better game. The game is also notable for being the very last game developed by famous Spanish developer Topo Soft.
Download full game now: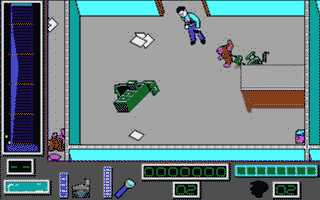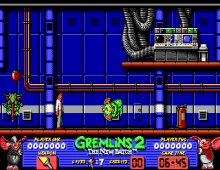 Gremlins 2: The New Batch screenshots
People who downloaded this game have also downloaded:
Gremlins, Ghosts'n Goblins, Teenage Mutant Ninja Turtles, Garfield: Caught in The Act, Simpsons: Bart vs. The Space Mutants, The