Game Downloads
You're located in category:
Forbes Corporate Warrior
Forbes Corporate Warrior is a thoroughly average and repetitive FPS that is noteworthy only for a curious attempt to set the kill-everything-in-sight gameplay in the business world. Official blurbs already make it curious enough: "...Business is War! Cash is ammunition! The first ever, arcade style, blast 'em to bits, 3D business simulator. Crush the competition with Price Bombs, Marketing Missiles, Head Hunters, Takeover Torpedos and more. Fight the battle of cut throat business -- and get insanely rich in the process."

The designers' attempt to cloak every FPS element in business terms results in some novelty value that lasts all but 5 minutes - that is, as soon as you find out that it's just another below-average DOOM clone. You will use a variety of similar futuristic cyber-weapons to "knock the living daylights out of your competition," earning cash from each company you annihilate, create "business alliances" in network play, which can be over the Internet or LAN. Despite the claim of "transforming 3D environments," landscape in FCW is bland, and looks much worse than the wireframe graphics of Battlezone remake. Some of the weapons you wield are have quite interesting names. For example, you can "compete on price or quality" with Price Bombs and Marketing Missiles. A videophone at the bottom of the screen relays advice from your "business advisors" especially when you are not doing well, and there are many real-time events that spice up the action a bit - including a stock market crash, recessions, inflation, and natural disasters. It may sound good on paper, but when the novelty wears off, you will discover just another typical - and actually below-average - DOOM clone. Not recommended, unless you simply must play every bad FPS in existence.
Download full game now: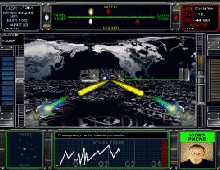 Forbes Corporate Warrior screenshot
People who downloaded this game have also downloaded:
Echelon (a.k.a. Shtorm), Flesh Feast, Final Impact, Freespace 2, Full Tilt! Pinball