Game Downloads
You're located in category:
Emerald Miner
Emerald Miner is a fun "retro" arcade game similar to Digger and Dig Dug. The plot goes as follows: "you are Chuck Stone, sole nephew of Uncle Chip Stone, and you have inherited a strange lease granting you mineral rights to excavate and remove precious gemstones from a legendary mine called "The Emerald Mountain". Uncle Chip has vanished within the mines and without a trace. Was he lost in a Cave In? Did he blow himself up? Or did Noxious Gas choke him in some long forgotten grotto? Only you will find out for sure! Can you save Uncle Stone before it's too late?"

The game plays like a more realistic (in a sense of "real world mining") version of Digger. While your goal is to dig as deep as possible to try to find Uncle Stone, it is crucial to find and retrieve gems in the process - you need money to buy advanced equipment that will make your job easier - including a radar and a more powerful jackhammer than the one you start the game with. In addition to your trusty jackhammer, you will be able to use dynamites, bombs, carbide, and more. While you dig, you must be careful to keep the structural integrity of your cavern high to avoid cave-ins. Each new level introduces new gameplay elements and/or equipment that are always interesting. This gives the game a high "just one more level" addiction quotient - you will always want to play one more level to see what surprises lie in store.

Emerald Miner is a lot of fun, but unfortunately all the levels are pre-designed. This means once you save Uncle Stone and finish the game, there is little reason to replay it because you already know the layout of every level. Despite this dent on replayability, Emerald Miner is still a fun and addictive arcade/puzzle hybrid that will keep you glued to the screen.
Download full game now: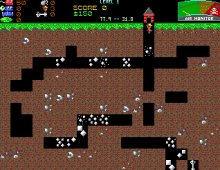 Emerald Miner screenshot
People who downloaded this game have also downloaded:
Dig Dug, Jazz Jackrabbit 2: The Secret Files, Giana Family, Jazz Jackrabbit