Game Downloads
You're located in category:
Driller (a.k.a. Space Station Oblivion)
After releasing many solid 3D action/adventure games, Incentive broke new ground with this, the first game developed using its revolutionary Freescape™ engine that may well be the very first *patented* 3D engine. Now, in addition to the standard 3D movement, every object in the game can be viewed from any direction. This translates into a fluid 3D world with great graphics and many more physical puzzles than Incentive's earlier efforts. You are on the mining moon of Mitral, tasked with releasing the gas build-up under and around the surface by roaming the moon and signalling drilling rigs to be sent down to your location. There are 2 different vehicles you can drive in, and a plethora of switches to push, lifts to activate, and other vehicles to dock with. Overall, a fun and imaginative arcade adventure.
Download full game now: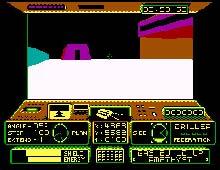 Driller (a.k.a. Space Station Oblivion) screenshot
People who downloaded this game have also downloaded:
Freespace 2, Castle Master 2: The Crypt, Darkside, Wing Commander: The Kilrathi Saga, General Chaos