Game Downloads
You're located in category:
DN News Delivery
A straightforward Paperboy clone, designed by E-Game for Dagens Nyheter (aka DN), Sweden's premier newspaper. From the in-game description:

"Help the news delivery boy to deliver the newspapers to all subscribers in the neighborhood. You have to place the papers either in the mailboxes (20 p) or in front of the doors (5 p) and make sure that you don't hit any windows (- 30 p). When you run out of papers, there are more to pick up along the route. Although it is a nice and quiet neighborhood, there are lots of dangers for you to watch out for, such as traffic and bouncing tires, so let's be careful out there.

You move your bicycle with the cursor keys and deliver papers with spacebar. You can move faster by holding down the up key, and slower by doing the same to the down key."

An average Paperboy clone-- nothing more, nothing less. Good graphics and flawless controls make this one quite enjoyable, though.
Download full game now: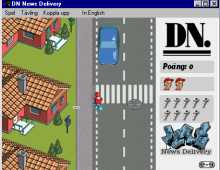 DN News Delivery screenshot
People who downloaded this game have also downloaded:
Giana Family, Champ Kong, Connaone, Dino Wars, Digger