Game Downloads
You're located in category:
Destruction Desire
Destruction Desire is another excellent 2D one-on-one fighting game from Japan, created with Enterbrain's popular Fighter Maker application that unfortunately is not available in English. In contrast to most games coded with M.U.G.E.N. engine, all the fighters in Destruction Desire are newly created specifically for the game: there is no "ripped" character sprites from commercial games. This needs to be said because there are "only" about 7 characters you can control in this game (as opposed to dozens in a typical M.U.G.E.N. fanmade title). However, they are all very well designed, each with a unique set of movements, attacks, special attacks, and some very neat-looking combos. The animation is top-notch, and the characters' graphics blend very well with the 2D scenery; there is no jarring inconsistencies between character sprites and background graphics here. I especially like the "special attack power gauge" at the bottom of the screen that lets you know what kind of special attack you can perform. There are only two modes in the game: "Survival" and "VS mode" for two players, but they are more than enough to hold your attention (I never could unlock the hidden characters, though).

With plenty of attacks for each fighter, excellent animation, and a good play balance, Destruction Desire plays like a well-coded "lite" version of Guilty Gear X. If you like 2D fighter games, check out this very nice addition to our growing repertoire of freeware beat 'em ups from Japan.
Download full game now: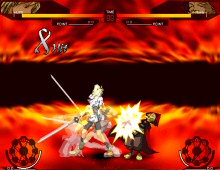 Destruction Desire screenshot
People who downloaded this game have also downloaded:
Guilty Gear X, Eternal Champions: Challenge From The Dark Side, Destruction Derby, Carnivores: Ice Age, Darius Gaiden