Game Downloads
You're located in category:
Crusade, The
The Crusade is a below-average action/strategy hybrid similar to Gauntlet - except not half as much fun. For starters, the plot is quite ludicrous: you are a king who has returned from a long journey, only to be refused entry into his own castle by a pompous guard who demands that you hand over a royal key. Thus begins the first mission of the game, which puts you in charge of the king, the queen, and his followers as you try to recover the royal key within a given time limit (all of five minutes in real time). Next missions are no less implausible, although they are a bit more fun to play.

Although the idea of combining top-down action with strategic elements is a good one - one that can lead to such remarkable games as Gauntlet and Rampart to name a few - The Crusade falls short of these classics in many areas. You have only five minutes to finish most missions, there are numerous annoying hidden traps that can only be uncovered with "Find Trap" command - which means clicking on a tile randomly, most maps are too boring, and the enemies don't put up much of a fight. All in all, a decent concept that is botched by poor execution. The original Amiga version is only slightly better known than this completely obscure PC conversion.
Download full game now: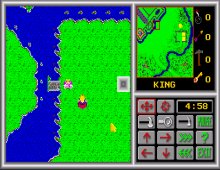 Crusade, The screenshot
People who downloaded this game have also downloaded:
MarioUp, Dino Wars, Classic Arcade Games for Windows, Star Trek TNG: Klingon Honor Guard, Mario Forever