Game Downloads
You're located in category:
Chromium B.S.U.
Review 1:

You are captain of the cargo ship Chromium B.S.U., responsible for delivering supplies to our troops on the front line. Your ship has a small fleet of robotic fighters which you control from the relative safety of the Chromium vessel.

Do not let ANY enemy ships get past your fighters! Each enemy ship that makes it past the bottom of the screen will attack the Chromium, and you lose a fighter. Use your fighters as weapons! Crash into enemies to destroy them before they can get past you. A double-right-click will cause your current fighter to self-destruct. Before the ship blows up, it ejects its ammunition so that the next fighter can pick it up. This is a very nice feature which means that you won't necessarily lose everything you have collected during the level.

Let me state that Chromium B.S.U is a very difficult game so even if you are an expert with similar games like Apogee's Raptor you will still get more than enough challenges as it seems like enemy ships just continue to come at you. Great graphics and somewhat good sound (this part could have used more work) makes Chromium B.S.U a great arcade space shooter and if you can live with the quite high difficulty level this game is defiantly for you.

Review 2:

Chromium B.S.U. is an excellent vertical shooter that requires a 3D card that supports OpenGL. Inspired by classic shooter Raptor, Chromium B.S.U. is similarly fast-paced. The graphics are very nice: very detailed ships and backgrounds that are rendered very smoothly without any sacrifice in speed. Ray-traced weapon effects are especially good - missiles leave trail in the air, and explosions "light up" the area for a while. Music in the game is below average, but you can listen to your own music while you play. As someone who only plays an occasional shooter, I find the game reasonably challenging but not impossible or too easy: a good gameplay balance. The game would benefit from more variety of enemy ships (especially bosses), ability to save power-ups for use later, and a buy/sell weapon screen as seen in Raptor. Overall, though, Chromium B.S.U. is still a highly polished, very good looking freeware shooter that you should take a look if your video card meets the requirements.

Note: The download here is the Windows version.
Download full game now: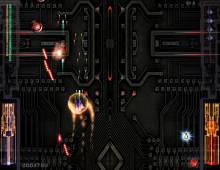 Chromium B.S.U. screenshot
People who downloaded this game have also downloaded:
Frenetic Plus, Mogura Reverse, Prototype, Fire Fight, Star Fox 2