Game Downloads
You're located in category:
Castlevania Haunted Castle 3
Castlevania Haunted Castle 3 is a great freeware platformer from Miguel "MIG2" Perez, independent developer most famous for Lost Valley. In this fangame set in the Castlevania universe, you play Trevor Belmont, a hero who must traverse Transylvania on the way to Dracula's stronghold Castlevania, defeat the vampire lord, and rescue his bride.

Similar to MIG2's other games, graphics in the game is a mixture of original and "ripped" graphics from Konami's releases. This means the game will look familiar to most Castlevania fans, although people who deride programmers who don't make their own graphics will find no appeasement here. (As an aside, I personally don't see anything wrong with using "ripped" graphics, as long as the designer credits the source. Using original graphics from the game you are trying to pay homage to makes the game that much more authentic, which can only help the game's legacy). Similar to Lost Valley, the game is played from 2D side-scrolling perspective. You will find many items, weapons, and you can also earn money and experience by killing monsters. Experience is required to reach the later levels, which are extremely tough. Similar to most other games from MIG2, this game is long - it will take you well over 15-20 hours to finish, and that is assuming you are good enough at action games to defeat most monster "bosses" on the first try. The game's huge size, good graphics, RPG elements, and frenetic gameplay make it worth keeping for every Castlevania fan. Just beware of some bugs and unforgiving difficulty of some sequences.
Download full game now: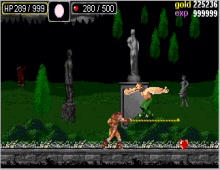 Castlevania Haunted Castle 3 screenshot
People who downloaded this game have also downloaded:
Castlevania, Dracula's Shadow (a.k.a. Castlevania 2: Simon's Quest), Contra, Golden Axe, Teenage Mutant Ninja Turtles