Game Downloads
You're located in category:
Contra
A good PC conversion of Konami's hit arcade game of the same name, Contra is a Vietnam war platform game that features Rambo-style one-man commando against seeming the entire planet's enemy population, complete with colorful explosions, varied enemy units, and excellent level design.

Although Contra may look just like every other shooter on the market, the game actually offers a much greater gameplay variety than its rivals. The play control, for example, is very responsive, and you can shoot in any direction. You can also cling to walls, jump, and dodge objects (no, not rifle bullets). You can even hold down the fire button for auto-fire, just like in the arcades. The only glaring weakness I've found is that the game is a bit too short though-- but then again, this is true for most Konami game. The bottom line is this: Contra is fun, fast-paced, and slightly easy... but that shouldn't turn veterans away. No, not from a game whose name is still going strong in various console-based games, although only one more PC conversion (Super C) was made.
Download full game now: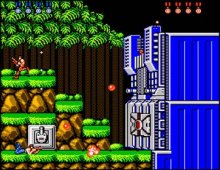 Contra screenshot
People who downloaded this game have also downloaded:
Castlevania, Super C, Zelda Classic, Teenage Mutant Ninja Turtles, Teenage Mutant Ninja Turtles 3: The Manhattan Missions