Game Downloads
You're located in category:
Card Hunter Sakura 2
Card Hunter Sakura 2 is a fun fighting game based on Card Captor Sakura, a popular Japanese manga and subsequent anime series. One of the better Dojin soft releases (i.e. unofficial fanmade games), CHS2 will please both fans of anime and fighting games alike.

The game is a straightforward one-on-one fighting game for one or two player. As is typical in this genre, you can play the game either in VS mode or Story mode. You can control either Sakura or Syauron from the anime series as they fight through 11 diverse stages. The "magic card" concept from the TV series is well implemented: you can select 2 special cards to use before any fight, and any enemy you beat in Story mode is "sealed" in a card which becomes available for the next stage. The cards essentially act like power-ups: they either give you new special attacks (e.g. Sword Card, Thunder Card, and Dark Card), or aid your attacks and combos (e.g. Time Card, Big Card, Jump Card). The graphics are only VGA, but are well animated with big 2D sprites. I find the game a bit more difficult than an average fighting game, but it should pose no problem for anyone who cut their teeth on 2D classics like Street Fighter 2. All in all, this is a must-have for fans of Card Captor Sakura, and a fun game for fighting fans in general. Recommended!
Download full game now: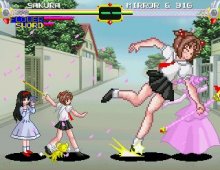 Card Hunter Sakura 2 screenshot
People who downloaded this game have also downloaded:
Battle Arena Toshinden 2, Fatal Fury 3, Blood 2: The Chosen, Kingpin: Life of Crime