Game Downloads
You're located in category:
Caesar's Palace
A semi-sequel to Mastertronic's earlier House of Cards and one of the first games Mastertronic released as "Virgin Mastertronic" under the new ownership of Virgin, Caesar's Palace uses basically the same engine as its predecessor. Instead of popular card parlor games, this time we get 6 of the most popular card casino games: three variations of poker, blackjack, and baccarat. Of special note is the inclusion of pai-gow poker, a poker variant that is popular in Macao (a casino haven near Hong Kong) but little known outside Asia.

There is little that is changed from House of Cards, except that you can now play against other human players in hot-seat mode. The basic engine and graphics are identical, so if you don't like House of Cards, you won't like this sequel. Overall, this is a decent casino card game, although it offers nothing new to the table. The lack of long-term play value such as tournament mode also limits the game's appeal... fun for a quick hand if you're nostalgic, but otherwise it's as banal as card games go.
Download full game now: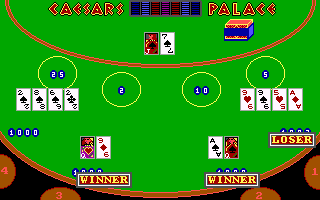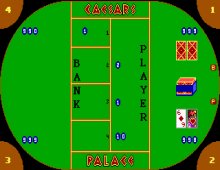 Caesar's Palace screenshots
People who downloaded this game have also downloaded:
Simpsons, The, Home Alone, Bust a Move, Frogger, Ecco The Dolphin (Windows 95)