Game Downloads
You're located in category:
Brutal: Paws of Fury Remix
Brutal: Paws of Fury Remix is an outstanding fanmade remake/update of GameTek's excellent fighting game of the same name. Coded with Elecbyte's excellent MUGEN engine, the game takes the best elements of all versions of GameTek's original classic, and adds many new features that make the great game even better.

The character sprites were taken from Super Nintendo version of the original game, so the game looks and plays in a way that will be familiar to every Brutal fan. The list of new features is long. In addition to the usual options for one and two players, there is now a special Team Mode that lets you fight two-on-one or two-on-two at the same time - something that is not commonly seen even in arcade games. You can also use the Training Mode and Watch Mode to learn and practice the moves. In addition to the wide variety of attacks and special moves in the original game, this Remix version gives you Super Moves: secret techniques you can use in extreme situations. Another new move you can pull is the "Custom Counter", which is used to counter any attack. The game also adds the ability to taunt your opponents, dizzy states, and plenty of graphic enhancements such as new hitsparks and life bars. Doubtless one of the best, if not THE best, games ever made with MUGEN, Brutal: Paws of Fury Remix is a must-play for every fighting fan.
Download full game now: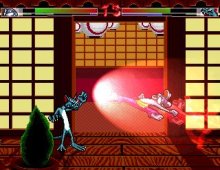 Brutal: Paws of Fury Remix screenshot
People who downloaded this game have also downloaded:
Brutal: Paws of Fury, Blood 2: The Chosen, Aladdin, Abuse, Fatal Fury 3