Game Downloads
You're located in category:
Blues Brothers: Jukebox Adventure
Review 1:

Well, you didn't expect Elwood wouldn't want to bring you one of the Blues Brothers-Games? I like the Jukebox Adventure most (in fact the other one I played isn't really playable in my opinion). So, I'm not a big fan of Jump'n'Runs (in fact I don't like them at all), but this one seems to be one of the rare gems of this genre. It is mostly the same as Giana Sisters - the old classic I used to play on my C64 back in the old days. God, did that game cost me money to buy new Joysticks... Yeah, this one can be real fun for a little game or two and all you Blues Brothers-Fans out there will surely love it like I do. I also like the comic-style graphics - they give the game the real Jump 'n Run-Feeling - I like that.

Review 2:

A follow-up to Image Work's 1991 Blues Brothers game, Blues Brothers: Jukebox Adventure features improved graphics, bigger levels, and --naturally-- more records than ever to collect. The game stars the Blues Brothers, a duo of popular musicians comprising Jake and Elwood. The game is based on a hit movie of the same name, which was in turned inspired by the real Blues Brothers band (although the band members bore little resemblance to their movie counterparts).

Gameplay is standard side-scrolling platform fare, except that various monsters, power-ups, and items are modified to fit with the Blues Brothers theme. Instead of shooting fireballs or laser, Elwood or Jake throws records (LP) that cut through monsters. These records are depletable, so you must be on a lookout to collect more of them whenever you can. You can control either Elwood or Jake, although they are not very different (Elwood, being a bit more portly than Jake, seems to move a bit slower though). With vibrant graphics, varied and inventive levels, and --of course-- rocking Blues Brothers soundtrack, Jukebox Adventures is a must-play for all fans of the duo, and a good introductory-level game for newbies. Arcade veterans should look elsewhere, because they will likely find the levels too short, and gameplay too easy.
Download full game now: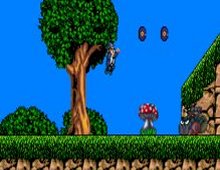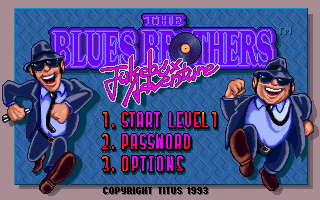 Blues Brothers: Jukebox Adventure screenshots
People who downloaded this game have also downloaded:
Blues Brothers, Aladdin, Back to The Future III, Batman Forever, Batman: The Movie