Game Downloads
You're located in category:
Arctic Fox
One of the true pioneers of real-time, first-person shooter (FPS) genre, Arctic Fox is a fun game that is also notable for being one of Damon Slye (Aces of Pacific)'s first designs at Dynamix. There's even a decent plot, although that is hardly needed for this kind of game: you are pilot of the Arctic Fox advanced fighter, tasked with destroying the invading aliens' main fortress that lies deep behind their conquered territories in the arctic.

Although it is similar to classic Battlezone in style and concpet, Arctic Fox introduces many strategic elements that make a nice break from the typical shoot-everything-in-sight mentality of most shooters. For example, destroying communications buildings will lead to less alien fighter crafts, since their ability to communicate to their attack force about your location is curtailed. You must also keep a close eye on resources that can be depleted and acquired, such as fuel and missiles. Overall, Arctic Fox is a fun and addictive shooter that paves the way to many games in the same vein, especially Dynamix' own Stellar 7 and Nova 9, and Spectre VR.
Download full game now: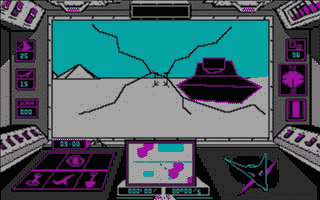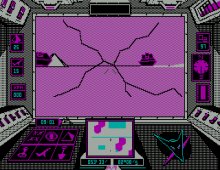 Arctic Fox screenshots
People who downloaded this game have also downloaded:
Amazing Spider-Man, The, Armour-Geddon, Aargh, Abuse, Arkanoid 2