Game Downloads
You're located in category:
Amanagi
Amanagi is an excellent horizontal shooter from Japan that boasts excellent 3D graphics and gameplay. Formerly shareware, the game has been released into the public domain by the author.

The animations are very smooth, the ship designs are excellent, and the gameplay is superb, albeit probably too easy for die-hard action fans because a joystick-challenged gamer like me could finish it ;) The feature I like most about Amanagi is the fact that you can store several weapon power-ups in a small inventory displayed at the bottom of the screen, so you always know what you are using. Also, most power-ups cycle through all possible choices, so you can wait for the one you want before picking the item up.

The ships are not as detailed as recent commercial 3D shooters, but they are still very well-designed and truly look like the 3D models they are. The boss ships especially are very good-looking -- much better designs than many commercial shooters I have come across, even. If you enjoy shooters, Amanagi is one quality freeware that will not disappoint, even if it starts out a bit easier than average.
Download full game now: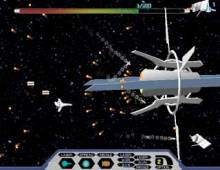 Amanagi screenshot
People who downloaded this game have also downloaded:
Amok, Another Zero, 3D Pinball Express, Arkanoid 2, Anchor: The Last Hope of the Brilliant Ocean