Game Downloads
You're located in category:
3D Pinball Express
3D Pinball Express is a so-so pinball game from COSMI that is apparently one of the worst pinball games ever released, at least according to pinball expert Martin Mathis' review:

"Multi-table bargain bin package with four themes, each featuring three different table layouts. 3D table view selectable as scrolling or non- scrolling. Options to run in a desktop window or fullscreen in either "low-res" or "hi-res". Mouse, joystick and keyboard control. Keys and controls fixed. 3-way nudges. 3 or 5 balls per play. Top 5 highscores saved. On/off settings for music, sound and background image. Claims to come with free "The History Of Pinball" by Jay Gross, instead comes with a bonus game called "Lock Out". Abominable table design, ball physics, flipper control and menu navigation. Even for arcade-style pinball fans there is nothing worthwhile here. Flipper control is almost non-existent as the balls bounce around happily on their own most of the time. You may manage to flip one back into the maze of gratuitous bumpers and may then continue to watch as it occasionally also hits spots that appear to be randomly placed other targets of sorts. And that is only after you break through odd walls and laser barriers to access those table areas. The boards look like they've been placed inside craps tables, pits surrounded by high walls, ugh. Then, banners reminiscent of Commodore 64-era sprites scroll across the top of the screen to e.g. inform it's now time to "SHOOT BALL". I also love the "Loading please wait..." prompt, apparently a virtue the game itself does not possess: Don't start a game quick enough and the screen will wander off to the main menu, then to demo mode or simply change the background image at will causing another loading delay." Ouch. I'm hardly a pinball expert, but Martin's review seems to hit the mark judging from my 15-20 minute experience with the game. Avoid this one unless you simply must have every pinball game ever made.
Download full game now: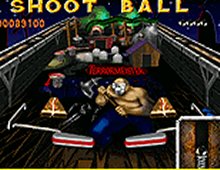 3D Pinball Express screenshot
People who downloaded this game have also downloaded:
Absolute Pinball, 4D Prince of Persia, Arkanoid, Aladdin, Arkanoid 2