Game Downloads
You're located in category:
Tracer Sanction, The
One of the rarest PC games in existence today, The Tracer Sanction is a fun sci-fi text adventure with graphics designed by Interplay and published by Activision. From a brief review first printed in ZZAP!64: "The Tracer Sanction is very similar is design to Mindshadow, though with a very different plot. As an interplanetary secret agent, you must roam the galaxy in your extremely fuel-conscious space ship (only 500 gallons to the nearest planet). Heaven knows what sort of engine your ship possesses, but as stars scroll past your cockpit you can hear what sounds like a very unhealthy motor-scooter in the background.

There are some touches of dry humour, including an interminable queue of people that you can stand in for ever, never quite reaching the end. You'll also have some trouble with a certain crazed dwarf and some unstable stalactites -- at least if you go the way I did. I found this game rather easier than Mindshadow, though, and the atmosphere is rather less enthralling in outer space than it was on board ship. Both games however, are extremely attractive to look at and might be particularly suitable for first time adventurers who will no doubt appreciate the 'living tutorial'. What's encouraging about these games (and the disk Hobbit, of course) is that here we have adventures with really excellent graphics that make good use of text and can handle some quite complex inputs." Overall, a competent adventure that will hold your interest to the end, although neither as well-written nor innovative as Mindshadow.
Download full game now: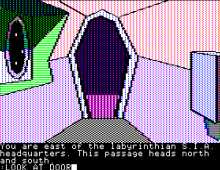 Tracer Sanction, The screenshot
People who downloaded this game have also downloaded:
Peasant's Quest, Time Quest, Residence 44 Quest, Space Quest 0: Replicated, Stationfall