Game Downloads
You're located in category:
Residence 44 Quest
Residence 44 Quest is a fun fanmade adventure game created with AGI Studios, a program that allows you to create text-parser-with-graphics game in the same style as Sierra's oldie adventures (e.g. King's Quest III, Police Quest 1). The game is based on the authors' real lives as university students in Holland, so brace yourself for some sophomoric humor and a few raunchy scenes (nothing that will surprise Leisure Suit Larry fans, though). Fortunately, Residence 44 Quest is funny, and never degenerates into making too many cheap or cliche jokes. The plot is quite simple: as freshman, you must accomplish several tasks for the residents of apartment number 44 to earn their trust and a room there. Your first task is to get rid of a "slut" who is causing everyone grief. It is not hard to guess what kinds of actions will be required here ;)

Puzzles are generally typical and fair, although the solutions to a few are a bit far-fetched. The game doesn't understand a lot of synonyms, but this is understandable as the designers had to translate the original Dutch version. The graphics are excellent, although the game feels a bit claustrophobic because most of the scenes are small rooms in the building. This is the opposite extreme of the large, expansive, mostly empty gameworld of URI Quest, a similar AGI adventure. But what makes Residence 44 Quest a lot of fun to play is the entertaining story, good character interaction (everyone has a lot of things to say, useful or not), and a huge dose of charming, sophomoric wit (if that's an oxymoron, I apologize ;)) In short, an enjoyable college romp that, except for a few glaring typos, is better overall than URI Quest.
Download full game now: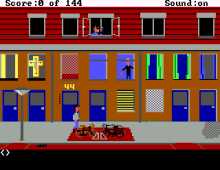 Residence 44 Quest screenshot
People who downloaded this game have also downloaded:
Peasant's Quest, URI Quest, Space Quest 0: Replicated, King's Quest 1, Scoop, The