Game Downloads
You're located in category:
Spellcasting 201
Review 1:

It didn't take too long for Legend to come up with the sequel for Spellcasting, and noone was disappointed. Unlike majority of sequels, this one was if not an improvement, then at least of the same caliber as the original one. With your character already in the Sorceror's University, you find yourself struggling to save it from the certain destruction. The Spellcasting series always boasted certain degree of nudity and suggestive themes, but they cannot be classified as adult games. A must have for anyone who liked innovative word-driven style of Legend.

Review 2:

Spellcasting 201 vastly improved on the original ideas first used in Spellcasting 101, and has a more substantial and interesting plot. While slightly more challenging than the first game, it is still rather easy, but it does tie in with events from Spellcasting 101: now in his sophomore year, Ernie must finish impossible tasks in order to become member of a fraternity. More fun and the first game, with more sexual innuendos and creative spell-related puzzles.
Download full game now: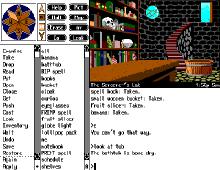 Spellcasting 201 screenshot
People who downloaded this game have also downloaded:
Spellcasting 301, Spellcasting 101, Eric The Unready, Maniac Mansion Deluxe