Game Downloads
You're located in category:
Spellcasting 101
Review 1:

In this textual adventure, You play a role of Earnie Eaglebaek, a "victim" of mean stepfather which dreams of becoming a world famous sorcerer. His dreams may come true as soon as he enrolls the Sorcerer university and meets some new people...

Review 2:

One of first adventure games in Legend collection, this one was made with wits, not boasting extensive graphics, as control of whole game practically driven by word-based interface menu, but instead challenging player with some of the most devious puzzles ever seen in adventure genre yet. You play young wannabe wizard apprentice who must escape his treacherous stepfather in his struggles to become full apprentice himself, and most importantly, pick up some girls on the way. Definetely one of the top choice in abandonware adventure gaming.

Review 3:

Impersonating Ernie Eagleback you make an escape from home and your violent and permanently drunken stepfather to sign up at the university. And it's the arcane arts you are studying - magic! You are to become a great sorcerer - and more important, you are to enjoy college life! In an almost Prattchetesque environment you steer Ernie to increase his magical powers as well as to success with the female population of the campus.

Not an easy game and an unpleasant end waits around the corner more often than not. However the game is not illogical or stupid. It's challenging and meant for the advanced (as well as adult) gamer. While there is no nudity in this game it's still not really anything for kids (apart from them probably not understanding every joke). The Spellcasting series probably got one of the most advanced game engines text adventures ever came up with. You also get a picture illustrating the scene. This all gets you into the atmosphere pretty fast.

Spellcasting 101 is a classic - if you're into adventure games you HAVE to try this one - even if you're normally not a fan of textbased games.

Review 4:

Steve Meretzsky's first game for Legend is a raunchy adventure of the best caliber that is best described as his earlier classic Leather Goddesses of Phobos meets Zork. Help bumbling nerd and wizard wannabe Ernie Eaglebeak escape the clutches of his evil stepfather and realize his dreams of becoming an apprentice wizard. Puzzles involving spells are very clever and logical ("Island of Lost Soles" puzzle being one of my most favorite puzzles of all time, and numerous little details enhance the atmosphere. A great start to a great series.
Download full game now: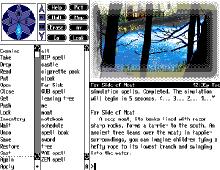 Spellcasting 101 screenshot
People who downloaded this game have also downloaded:
Spellcasting 201, Spellcasting 301, Eric The Unready, Legend of Kyrandia, The