Game Downloads
You're located in category:
Questmaster 1: Prism of Heheutotol (a.k.a. Dondra: A New Beg
Questmaster 1 is a fun adventure game that was ahead of its time, with vibrant 16-bit graphics and a good parser. Summoned by the Elders to help find the Crystal Prism to vanquish the evil Colnar, you must deal with many clever puzzles, including some in real-time. Your score at the end of the game also represents the "experience points," to be used in future Questmaster games (which sadly never came out). The score is modified by the number of times you saved the game, got killed, and the number of objects you obtained. Recommended, but be warned that it is a shorter-than-average game.
Download full game now: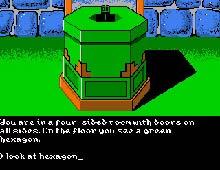 Questmaster 1: Prism of Heheutotol (a.k.a. Dondra: A New Beg screenshot
People who downloaded this game have also downloaded:
Peasant's Quest, Pirate Fry 2: The Hand of Anturus, Realms of The Haunting, Rome: Pathway to Power (a.k.a. Rome: A.D. 92), RON1: Lunchtime of The Damned