Game Downloads
You're located in category:
Rome: Pathway to Power (a.k.a. Rome: A.D. 92)
Review 1:

Millennium's second isometric adventure game is a humorous romp in the ancient Roman Empire. Rome: Pathway to Power is a vast improvement over Adventures of Robin Hood in every respect. The tiny characters are still there, but they are much easier to see thanks to VGA graphics and smoother animations. The premise: you are an ambitious Roman slave who is trying to free yourself and get away from the provincial town of Herculaneum to seek fortunes in Rome. Gameplay is a fun mix of action, adventure, and even strategy. Most puzzles require astute observation of people's daily lives and good timing (a sequence in which you must wait to steal a citizen's toga is a case in point). The cities are teeming with priests, citizens, officials, warriors, and other kinds of people, all of whom have things to say when you stop them on the street. The game is divided into self-contained episodes, each of which must be solved in order.

The awkward interface of Adventures of Robin Hood has been vastly improved in this game, and is much more playable. It is still not intuitive, however, as some actions require multiple step (you must click on DO icon first to PAY, for instance), but it's adequate for the game. Each episode introduces not only new locations and characters, but also gameplay twists. In the middle of the game, for example, you'll have a chance to command a Roman army, and the standard action icons are replaced with war orders such as ADVANCE, etc. These war episodes are quite frustrating, as the enemies advance very quickly and you have little time to plan your strategy. Still, surprises such as these keep the game fresh and always interesting. With charming cartoon-style graphics, fun plot, and great mix of different styles of gameplay, Rome: Pathway to Power is one old game noone should miss. Recommended!

Review 2:

You're a Roman slave. Well actually, your character is. You've never seen anything more than the provincial town you're in. You feel prisoned, so logically, you will try to escape. That's your first mission, but it's a long way to Rome and in this game, you will see not all paths lead to Rome actually. Escape from that little town before the lava kills you and you will be saved... In the first mission, that is.

But actually, there's so much to say about this game, that I can only recommend playing it. Its graphics are very good for its time and the gameplay is pretty okay too. You have a lot of freedom to do whatever you like, but you are bound to some storyline restrictions, which makes this game fun and not too hard to play.

So it's definately a game I would recommend, especially if you like to play freeplay adventure games. Anyway, try it and you will see for yourself.
Download full game now: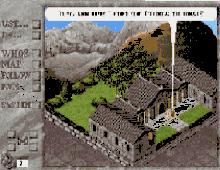 Rome: Pathway to Power (a.k.a. Rome: A.D. 92) screenshot
People who downloaded this game have also downloaded:
Quest for Glory 3: Wages of War, Lost Files of Sherlock Holmes 1 (a.k.a. Case of the Serrated, Quest for Glory 2: Trial by Fire, Lost Files of Sherlock Holmes 2 (a.k.a. Case of Rose Tattoo), Quest for Glory 1: So You want to be a Hero (remake)