Game Downloads
You're located in category:
Myth
Magnetic Scrolls' last adventure before the introduction of their 'Magnetic Windows' format, Myth is a short but fun game that was distributed for free as a "welcome present" in the British adventure club called "Official Secrets," which was founded by Tony Rainbird, founder of the well known "Rainbird" label who later became business advisor of Magnetic Scrolls. Here's a good (and funny) review ofr the ZX Spectrum version from CRASH Magazine:

"The ancient gods are having a bit of a problem: Something called Christianity. Hordes of people are leaving their temples to worship this newfangled Jesus bloke instead. Desperate to win back public support, chief god Zeus decides to give all fellow gods a task each, something to impress the little people. Guess who gets to show off first? Yep, you, Poseidon, the god of the sea, who can't swim. You're whisked off to the gates of the Underworld armed with the usual adventuring tack: trident, shield, tunic and skirt (!), plus the obligatory note explaining the task facing you: Basically, just to nick the Helmet of invisibility from Hades. Push over, eh?

Actually, it turns out to be a bit more difficult than that. The problems are solvable, but far from easy. You need a devious mind to work some out. It's a text only game, and it strikes an excellent balance between atmosphere and amusement. Author Paul Findley keeps enough sense of 'being there' to make the game lastable, as well as plenty of humour to make it enjoyable.

Myth is destined to be a classic, it's funny, cunning and addictive. Being free to members of Official Secrets, I suppose, theoretically, it has to be worth more than 100% for value! The only thing I'm wary about is the size; it's proclaimed as a 'mini-adventure', although I've been playing it for three days solid, and there's no sign of an end. Still, along with Fish this is the most enjoyable adventure I've played. I suggest all adventuring fans sign up with Official Secrets pretty quickly! "

Despite the game's short length, Myth is a lot of fun to play. It's got clever puzzles, pleasant graphics, and the solid parser that fans of The Pawn will feel right at home with. If you enjoy text adventures, Myth definitely belongs in your library. Two thumbs up, way up!

Note: This version for download is not the original DOS version, but a re-compiled version using text and graphics from Atari ST format and a fanmade interpreter called Magnetic.
Download full game now: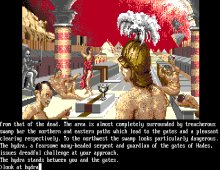 Myth screenshot
People who downloaded this game have also downloaded:
New Adventures of Zak McKracken, The, Out of This World (a.k.a. Another World), Maniac Mansion Deluxe, Magnetic Scrolls Collection 1, Knight Orc