Game Downloads
You're located in category:
Maupiti Island
Review 1:

Maupiti Island is detective kind of adventure game where different strange things are happening including a kidnapping and you have to make a break on your vacation to solve these things. Most of all Maupiti Island is made of very well detailed pictures where you have to look closely on each thing you see as it can be of possible use further in the game. I'm actually a bit impressed with some of the pictures when you consider the game is from 1990.

Discovering the things on the pictures of the places you go to are of course essential in any police related adventure game. From the somewhat poorly done menu at the top you can take items, use them, go to other locations and many other things. This menu makes the game slow though as you have you use it to perform pretty much anything in the game.

Well done graphics together with an okay story makes Maupiti Island a nice adventure game but nothing spectacular though and while it isn't one of those funny adventure games like Leisure Suit Larry or Monkey Island it does offer some good detective aspects.

Review 2:

One of the hardest and most intriguing adventure games ever produced, Maupiti Island is also sadly one of the most overlooked despite attracting a loyal following in Europe. As private eye Jerome Lange, you are hired to investigate the abduction of Marie on isolated Maupiti Island. Conduct interviews, gather clues, and solve almost impossible puzzles that require insight as well as intuition. Overall, an excellent game that's marred only by a poor interface.

Review 3:

Maupiti Island is a nonlinear police investigation, with graphics in 2D. Maupiti Island is held after the manor of Mortevielle. Whereas one is at sea, a cyclone (Harry) approach and obliges us to put wraps it on the Island of Maupiti while waiting for that time is calmed. And if things were not sufficiently bad already, a woman is kidnapped! We put a cap on the holiday to investigate, no doubt with plenty of surprises.
Download full game now: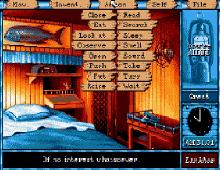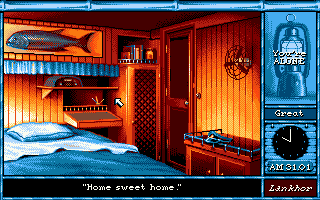 Maupiti Island screenshots
People who downloaded this game have also downloaded:
Lost Files of Sherlock Holmes 2 (a.k.a. Case of Rose Tattoo), Lost Files of Sherlock Holmes 1 (a.k.a. Case of the Serrated, Maniac Mansion Deluxe, Cruise for a Corpse, Out of This World (a.k.a. Another World)