Game Downloads
You're located in category:
Larry Vales 2: Dead Girls are Easy
Review 1:

Larry Vales is back! After solving the case of berserk traffic droid, he's into another case. This time it's a bit more personal - Larry's girlfriend was killed and it's time to solve that mystery.

The graphics, sound and gameplay are the same as before. Actually, there is even more humor in the game than before which is just perfect! All the old game characters are back plus there are some new ones. Will Larry solve the murder of his beloved one? Get the game and see it yourself!

Review 2:

Larry Vales II is a hilarious freeware adventure game by Phillip Reed, creator of cult classic Larry Vales: Traffic Division. I hope you'll forgive me, but I will mostly be comparing Larry Vales II to the first one in the series. The game character is still the same, the style of the game hasn't changed either, and luckily, the humor in the game has not changed much either.

In fact, on all these points the game has improved a lot.

You will be glad to know that this game is a lot bigger than the first in the series. The story still revolves around Larry Vales, sideburns, and the Stagnant traffic division. But this time it also adds a (very confusing) B-movie plotline. Larry's girlfriend has been murdered, and he has to figure out who did it. There is also a mysterious man in a grey trenchcoat who is after Larry. And to top it off a mysterious goat-man has been added to the cast.

Everything in this game is meant to make you laugh. The game does not take itself very seriously, but this is a rather refreshing concept in adventure games. There are many funny conversations, funny replies and funny characters in LVII. The humor in the game may not be for everyone, and it can get quite nasty at times, but it can never be called bad.

The puzzles have gotten a bit easier than they were in Larry Vales I. But there are a lot more of them. Only two puzzles in the game gave me trouble: one at the very start of the game (where you have to use some very twisted logic to solve the puzzle), and one right before the end of the game (same thing). I guess this is the price to pay when playing such an overall strange game.

The music in the game consists out of several MIDI-songs. They are not original (apart from the theme song), but they do fit the mood of the scene very well. It's really a pleasure to hear all those old tunes again.

I would definately recommend this game to anyone who has played the first game, and to anyone who enjoys a laugh and pop-culture spoofs.
Download full game now: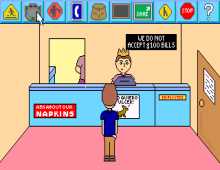 Larry Vales 2: Dead Girls are Easy screenshot
People who downloaded this game have also downloaded:
Larry Vales 1: Traffic Division, Legend of Kyrandia, The, Lost Files of Sherlock Holmes 2 (a.k.a. Case of Rose Tattoo), Maniac Mansion Deluxe