Game Downloads
You're located in category:
Kaged
Kaged is a stylish, superbly written game of alternate history that is a worthy winner of the 2000 Interactive Fiction Competition. After impressing the judges with science fiction thriller Babel, Ian Finley returns with an excellent futuristic vignette that is strongly reminiscent of George Orwell's classic "big brother" novel 1984, both in plot and style. You play Commissar Aackman, a diligent civil servant who has just been appointed to replaced your boss who mysteriously jumped off the building. Slowly but surely, you will begin to question the authorities that control every aspect of your life, and begin to see the world in ways you never thought you would.

Kaged is a very polished game. There isn't a typo in sight, and puzzles are logical and fair, although some of them seem dull in comparison with the clever puzzles of Babel. Many puzzles have alternate solutions, and the few non-player characters you can interact with are all interesting individuals with their own agenda. Although the plot is quite predictable, excellent writing and attention to detail will keep you playing, just to see if the ending is what you'd expect (hint: it is). In addition to spotless writing and good puzzles, Kaged utilizes multimedia capabilities of HTML TADS to great effect. The pictures and music are nicely done, and fit the game's grey, dystopian mood perfectly. In short, this is a definite must-have, although anyone who dislikes Kafka-esque, existentialist games that will make you feel depressed for days should stay well clear of this one.
Download full game now: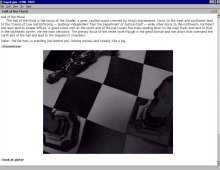 Kaged screenshot
People who downloaded this game have also downloaded:
Lost in Time, Lost Files of Sherlock Holmes 1 (a.k.a. Case of the Serrated, Lost Files of Sherlock Holmes 2 (a.k.a. Case of Rose Tattoo), Igor: Project Uikokahonia, Maniac Mansion Deluxe