Game Downloads
You're located in category:
Igor: Project Uikokahonia
Review 1:

To be honest, I've never heard of Pendulo studios until I saw this game. It is shame that it never had an attention it deserves because this is a pretty good game. It looks a lot like some older LucasArts adventures (such as Indiana Jones and Monkey Island series). It puts You in a role of a student who is determined to get a girl which seems to be out of his reach. Very good one, try it.

Review 2:

One of the many great adventure games that never got the credit it derserved which is too bad. The game offers great graphics and good sound as well and the interface is the well known also used in more popular games such as Indiana Jones and Monkey Island.

You are playing the game as a boy trying to get a girl which you are attracted to. Too bad for you there are several things in your way, so it won't be easy for you to suceed. But you can at least try :-)

Review 3:

One of the best shareware games ever released (with possibly the most creative name), Igor: Objective Uikokahonia tells a typical story of schoolboy Igor who must get on to the class biology trip to Uikokahonia to pursue the girl of his dreams who's dating another guy. The predictable plot soon turns into a cool espionage story, with many exciting moments. The clean interface, creative but forgiving puzzles, and tongue-in-cheek humor recall LucasArts' games, and deservedly so; if only dialogues were better written, it will rival with the very best.
Download full game now: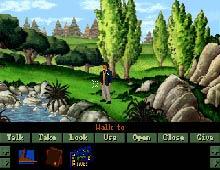 Igor: Project Uikokahonia screenshot
People who downloaded this game have also downloaded:
Maniac Mansion Deluxe, Flight of the Amazon Queen, Escape from Delirium, No-Action Jackson, Inspector Gadget